This is part one of a four-part series about the design of the new logo and website for Mesa Public Schools.  For more information, please read the introduction: A New Look at Work.
Officially, Mesa's logo design and branding project began a few months ago. For me, though, the process of designing a new logo started much earlier–nearly five years ago.
Nobody in my team, Web Services, made a secret of the fact that we disliked the current logo: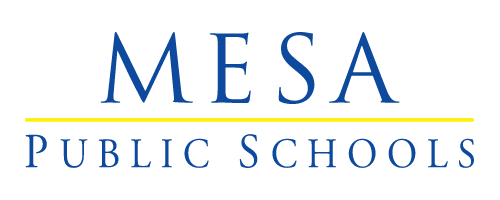 It wasn't a logo! It was two rows of Trajan Pro with a divider line. It didn't scale well; it didn't "attach" well to other branding. The shade of blue felt sickly if used on anything wider than a toothpick, and the yellow was worse–it had a tendency to disappear in print, while on-screen it was practically radioactive.  In very practical terms, the logo was a train wreck… Let alone the fact that it was completely devoid of any artfulness.
In 2008, we began the process of moving web content from a static, Dreamweaver-driven environment to our homegrown CMS, Architeck. Arrogant twenty-something that I was, I thought this was a good opportunity to put my own stamp on district branding–I decided to try my hand at designing a new logo. This was what I came up with: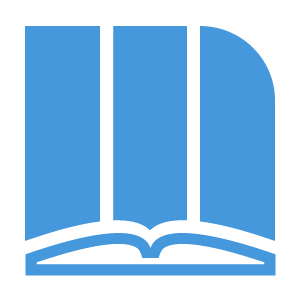 As logos go, this one made a very fine favicon.
Admittedly, it was not a very well-thought or holistic design.  It was excessively modern and abstract.  It didn't convey the district's identity well at all–even the implicit "m" shape was difficult to decipher.  I probably liked that it was not "obvious":  If you could identify the "m", and the imagery of the open book…  then you could begin to connect the dots to Mesa Public Schools.  I was trying far too hard to think like an artist, not like a designer.
It was not a very serious design, so I shouldn't have been surprised when it was never taken seriously.  Still, it did feature our home page for a year or two: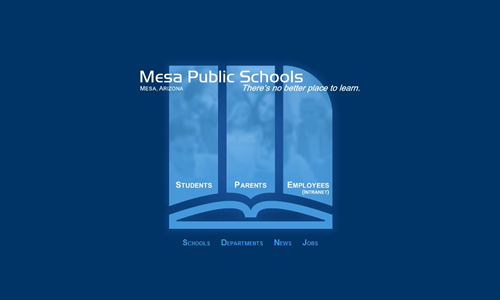 But the home page, like the logo, was a misadventure in form over function.  In early 2010, we moved to a more functional home page with many of the elements that persist to date: a slideshow, news items, action items, etc.  My "logo" was never adopted, and it eventually faded to the status of "web icon".
A little over a year ago, the district started getting serious about branding.  Our Community Relations department was given a new name–Communications and Marketing–a new purpose, and a new leader…  In a sense, my team got a new "boss", too.  It would have been easy for Helen Hollands, the new Director of Communications, to simply outsource branding to a commercial firm.  Instead, she invited Web Services, along with the district's Printing & Publishing and Educational Television departments, to participate in the branding project together.  I'm not sure whether or not district leadership actually thought us capable of the task, but at very least, they were willing to give us the chance to prove ourselves.
Our first step: to answer a call for new logo design concepts.  Go on, I'm listening…
We were given a set of design criteria to work from, most of which would seem obvious to anyone who, like us, had been shaking our heads at the current logo for years.  But there was one criterion that really stood out to me: "Advance the current brand".  I'm not convinced that, prior to this project, the district has ever truly had an established brand.  And yet, somehow, I was meant to take a logo that I wholeheartedly loathed by that point and make something good out of it?  This was going to be a challenge.
I started simple.  I knew I wanted to incorporate some sort of symbolism, something to tie the logo visually to education.  My first approach, which underwent several iterations, involved a simple change of font and a re-imagining of the yellow line as a logo: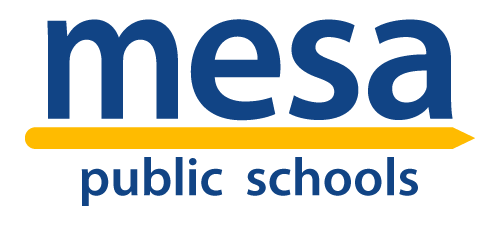 The ties to the old logo were obvious, but the differences were extremely superficial…  It did little to actually advance the brand.  I considered and tried a few other concepts, none of which were any better.  But I've got to be honest…  In the back of my mind, I knew I wasn't going to be happy with a "pencil" logo, or an apple, or a school bus or schoolhouse or silhouettes of a parent and child.
The book was calling to me.
I loved the symbolism of the book.  It was about more than education, more than a staple of the classroom.  There's something more primal, more fundamental about a book.  It is a font of knowledge.  The book has existed a thousand years longer than the wooden pencil, and it will likely persist centuries after the last iPad has been powered off.
I was wary of using the book, afraid that I would merely repeat my past failure.  Finally, I convinced myself that the book had always been a good idea; I just hadn't gone far enough to make a good logo out of it.  So I sat down at a blank screen.  I began to think of ways to incorporate the symbol of a book while still "advancing the current brand".  A few days later, I had it.  I knew immediately I had struck gold.  It was perfect.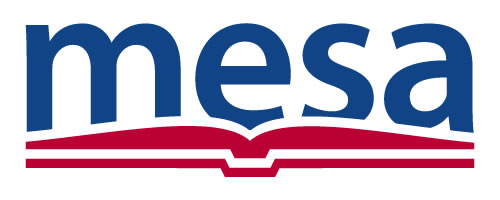 Okay, it was far from perfect.  But it was a start.
Continued in Part 2: The Angel in the Marble